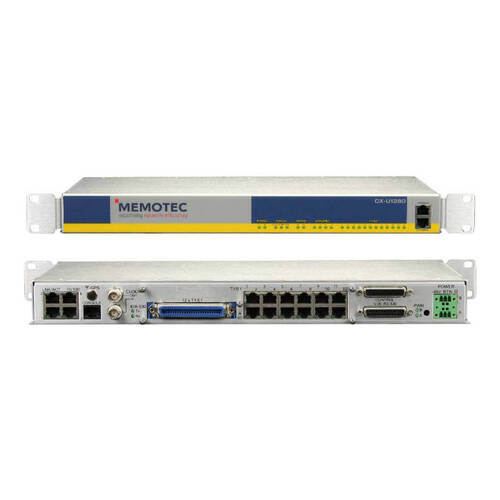 Overview
The CX-U Series brings together a flexible access device and mobile backhaul traffic optimization, offering a variety of backhaul interfaces and transmission options.
The CX-U offers Abis optimization with additional benefits of 2G/3G aggregation, DCME voice trunking optimization, TDM Pseudowire, all over IP, Frame Relay or MLPPP protocol support.
The CX-U products support digital fractional T1/E1, high-speed serial and Ethernet network interfaces with a choice of protocols (Frame Relay, IP/MLPPP) and multiple network backup options. Designed with the utmost reliability in mind, it can support an extended temperature range. Line bypass and optional 100 ms 1+1 hot standby redundancy without service interruption are also available for ultimate availability in challenging remote locations.
The CX-U family is comprised of four products: CX-U 1010, CX-U 1220, CX-U 1240 and CX-U 1280, which can be used in stand-alone mode of operation at hubs or aggregation points, or in conjunction with the CX-U devices located at the remote cell sites.
Details
Transparent GSM FR, EFR, HR and AMR codec optimization
Supports any data services (GPRS, EDGE, V.110 Fax/Modem)
IDLE and silence suppression
HDLC signaling frame extraction and forwarding
EDGE traffic compression
Signaling/voice/data traffic prioritization
Transparent support of CDMA-IS95 traffic
3G and CDMA-1X traffic optimization (ATM IDLE cells removal, cell packing, ATM header and payload compression)
ATM and TDM Pseudowire over IP
SS7 traffic forwarding and optimization (Ater links)
End-to-end Abis link continuity check
Dynamic Abis map interface auto-configuration
Traffic prioritization and 3 level QoS
TRX channels usage real-time monitoring
Quote Request - Comtech CX-U Series
---