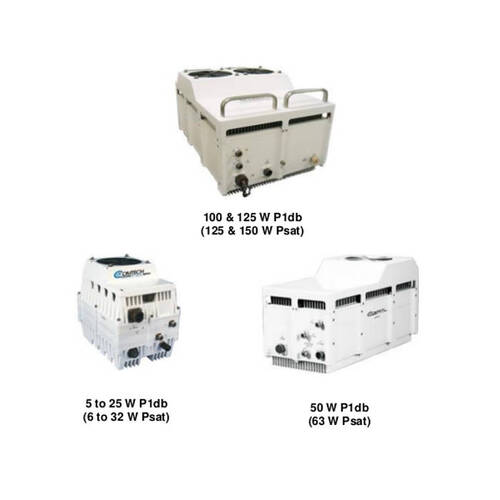 Overview
The CSAT-5060 and CSAT-6070 C-Band Transceivers provide superior performance, long-term reliability, and ease of installation. A very price-competitive product, these transceivers embody the best design efforts of our highly experienced RF engineering team.
Details
Full Rated Power - The CSAT-5060 and CSAT-6070 deliver the full rated power, or more, measured at the 1 dB compression point and at the output flange. You will know the useable output power you are paying for, and receive full value for your investment.
Phase Noise - The dual synthesizers in this family of transceivers deliver superior phase noise performance, exceeding Intelsat specifications by a substantial margin. Your applications will benefit from outstanding spectral purity and the ability to operate in multi-carrier environments with less worry.
Third Order Intercept (TOI) - The design provides a high TOI that allows multi-carrier applications without the issues normally encountered in low power environments. The CSAT-5060 and CSAT-6070 deliver performance usually found only in split converter SSPA systems. Small, Compact Design - The transceivers are enclosed in a single unit chassis. This design allows quick, easy installation for all models in this family of transceivers.
Full Monitor and Control (M&C) - A variety of full monitor and control methods are designed into the CSAT-5060 and CSAT-6070:

Convenient connection using an optional small, hand-held terminal
Easy access via EIA-232 or EIA-485 connections with optional Ethernet support (HTML, Telnet, SNMP)
Remote management via the CDM modem family or the PC-based SatMac proprietary M&C software

Redundancy - The CSAT-5060 and CSAT-6070 are available in 1:1 redundant configurations.
10 dBm Option - This transceiver is designed to mate with an external high power SSPA (Example: Comtech EF Data HPODs) or TWTA to provide even higher output power.
Quote Request - Comtech CSAT-5060 & CSAT-6070 C-Band Transceivers
---