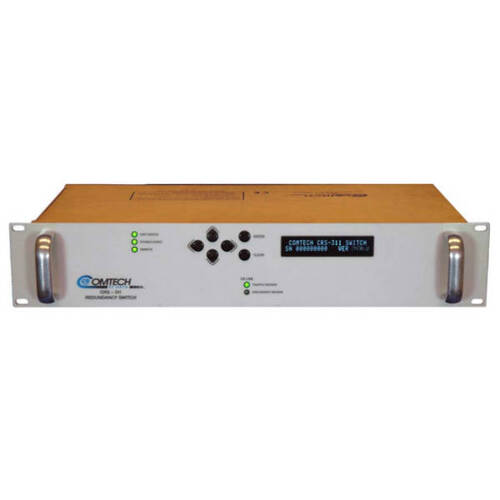 Overview
The CRS-311 1:1 Redundancy Switch supports automatic or manual 1:1 protection for our SLM-5650A/5650 and CDM-Qx/QxL Satellite Modems. A CRS-281 IF redundancy module provides TX 70/140 MHz or L-Band backup.
The switch connects two modems – a traffic unit and a redundant unit. It monitors the fault status of these two units. If there is an equipment failure, switching automatically takes place to protect the IF, data and overhead traffic circuits.
The traffic and redundant modems are linked together so that any configuration changes made to the traffic unit are automatically updated in the redundant unit.
Details
1:1 redundancy switch system, bridging architecture
SLM-5650A/5650, CDM-Qx/QxL
Fully automatic or manual
Quote Request - Comtech CRS-311 1:1 Modem Redundancy Switch
---