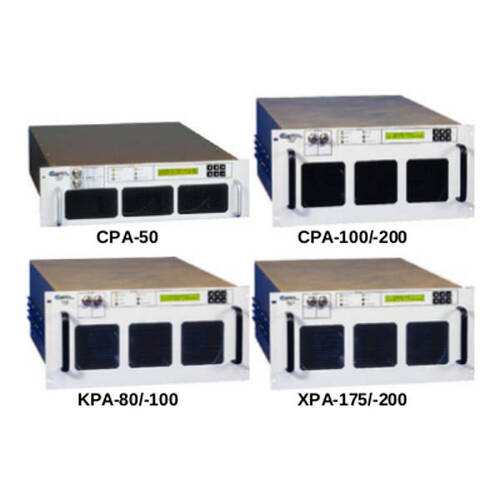 Overview
Our indoor series of Solid-State Power Amplifiers (SSPAs) includes the CPA for C-Band, the KPA for Ku-Band and the XPA for X-Band. Each model has a rack-mountable chassis, power supply, fan assembly, front panel assembly, Monitor/Control Processor (MCP), and an SSPA module. The amplifiers were designed using our low-loss combining technique and an MCP-based temperature versus gain compensation.
The front panel of the units features a user-friendly Liquid Crystal Display (LCD) menu display and cursor control keys to display status and enable parameter configuration. The front panel also has LEDs for quick reference to binary status points and both input and output sample ports for easy test point access.
The units each deliver the rated power, guaranteed, at the 1 dB compression point, to the transmit waveguide flange. The amplifiers are cost-effective and provide a reliable replacement for alternate technologies. As a result of the small form factors, the CPA, KPA and XPA are ideal for the construction of small "flyaway" terminals, medium sized (equivalent to Intelsat F class) earth stations, and hub earth stations for small to medium size private networks or point-to-point links.
Details
The SSPAs are constructed with highly reliable Gallium Arsenide Field Effect Transistors (GaAs FETs). Solid-State provides significant advantage over alternate technologies, including:
More superior third order inter-modulation products – from 4-6 dB better
Saturated power levels up to twice that of the CPA's, KPA's or XPA's rated output
Greater Mean Time Between Failure (MTBF) – 4-6X better
The CPA, KPA and XPA are also equipped with useful features that other manufacturers offer as chargeable options. Included in the base price of our units are:
Temperature compensation
Sample ports
Power monitor
Rack slides
Full remote monitor and control capabilities
Quote Request - Comtech CPA, KPA & XPA Solid-State Indoor Power Amplifiers
---