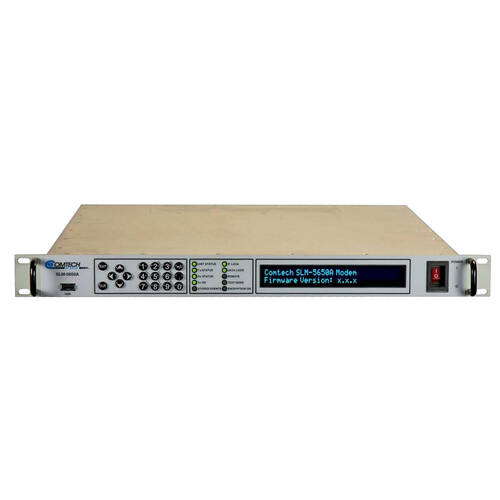 Comtech SLM-5650A Satellite Modem Overview
Comtech EF Data's SLM-5650A Satellite Modem is compliant with the strict requirements defined in MIL-STD-188-165A, modem types I, II, IV, V and VI for applications on DSCS, WGS and commercial satellites. Data rates from 8 kbps to 155 Mbps and symbol rates from 32 ksps to 64 Msps are supported. The modem provides standard MIL-STD-188-114 (EIA-530 / RS-422), and EIA-613 (HSSI) serial interfaces, and can be optionally configured to support G.703 and Low Voltage Differential Signaling (LVDS) serial interfaces. It can also optionally be equipped with a 4-port 10/100/1000Base-T Ethernet Network Processor module that supports switching, routing and advanced Quality of Service protocols.
The SLM-5650A Satellite Modem can be integrated with the Vipersat Management System (VMS) to provide fully automated network and capacity management. An AES-256 TRANSEC module, compliant with the FIPS-140-2 NIST standard is also available as an option. All traffic (including overhead and all VMS control traffic) is encrypted when using the TRANSEC module.
Compatibility
The SLM-5650A Satellite Modem is interoperable with the OM-73, SLM-3650, MD-1352(P)/U (BEM-7650), SLM-7650, SLM-8650, CDM-570, CDM- 600/600L, CDM-625, CDD-562, CDD-564, DMD20, DMD2050, and DMD2050E satellite modems. Special ordering option enables compatibility with the SDM-9000 modem using legacy Triple Viterbi modes.
Data Interfaces
The modem supports EIA-530 (RS-422), EIA-612/613 (HSSI) as standard features. Optional interface modules are available to support G.703, LVDS serial, or 4-port Gigabit Ethernet interfaces.
TRANSEC Module
An optional transmission security (TRANSEC) module provides bulk AES-256 encryption/decryption certified to FIPS-140-2 Level 2. The TRANSEC module encrypts all traffic sent over the air, including data traffic, overhead channel and Vipersat Management System messages (if present).
Advanced Iterative Forward Error Correction
Turbo coding provides superior error correction performance over Viterbi, Trellis and Reed-Solomon FEC. The SLM-5650A TPC is compatible with Intelsat IESS-315 and Comtech EF Data's CDM-570, CDM-600, CDM-625, SLM-3650, SLM-7650, DMD20, DMD2050, and DMD2050E Satellite Modems and the CDD-562/564 IP Demodulators. The high-performance LDPC is compatible with the CDM- 600, CDM-625, DMD2050, and DMD2050E. The ultra low latency LDPC is compatible with the CDM-625.
ASYNC Overhead Channel / AUPC
An asynchronous overhead channel supporting 2- and 4-wire RS-485, as well as RS-232 can be optionally configured. This overhead channel is typically used to support control and monitoring of equipment external to the modem in a remote network. The ASYNC overhead channel can be provisioned in conjunction with any of the supported traffic interfaces (RS-422, HSSI, G.703, LVDS or Ethernet). Automatic Uplink Power Control (AUPC) is available to maintain a desired Eb/No at the demodulator despite link fades due to excessive rain or other power level variations.
Doubletalk Carrier-In-Carrier
DoubleTalk Carrier-in-Carrier is based on patented bandwidth compression technology originally developed by Applied Signal Technology, Inc. Using "Adaptive Cancellation" it allows transmit and receive carriers of a two-way link to share the same transponder space. Figure 1 shows the typical full-duplex satellite link, where the two carriers are adjacent to each other. Figure 2 shows the typical DoubleTalk Carrier-in-Carrier operation, where the two carriers are overlapping, thus sharing the same spectrum.

Details
MIL-STD-188-165A compliant (Types I, II, IV, V, VI)
Selectable 70/140 MHz and 950 – 2000 MHz IFs
AES-256 TRANSEC, FIPS-140-2 L2 certified
Dynamic bandwidth allocation with Vipersat Management System
Support for bridged point-to-multipoint network architecture
DoubleTalk Carrier-in-Carrier bandwidth compression
BPSK, QPSK, OQPSK, 8PSK, 8-QAM, 16-QAM
Viterbi, Reed Solomon, Trellis, Sequential, Turbo Product Code (TPC), & Low Density Parity Check FEC
FEC rates 1/1, 5/16, 1/2, 2/3, 3/4, 5/6, 7/8, and others
Direct sequence spread spectrum, integer factors 2-128, plus 256 and 512
8 kbps to 155.52 Mbps
IESS-308, -309, -310, -315
ASYNC RS-485 overhead channel & AUPC
Asymmetrical loop timing & data source bit synchronization
Ethernet interface for remote control using HTTP, Telnet and Simple Network Management Protocol (SNMP)
EIA-485 and EIA-232 interface for remote control
Quote Request - Comtech SLM-5650A Satellite Modem
---