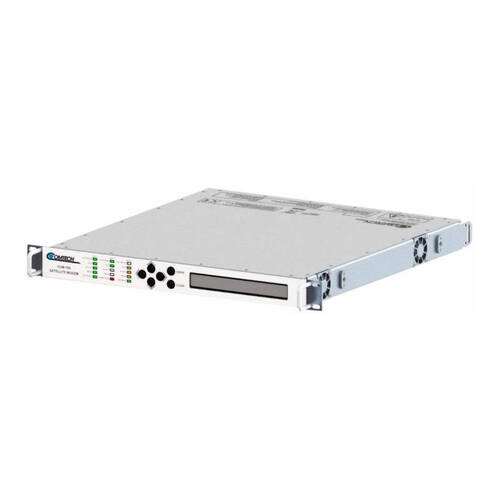 Comtech CDM-780 Modular High-Speed Modem
Typical Users
Mobile Operators / Telecom
Broadcasters
ISPs
Government & Military
Common Applications
IP & Telco Trunking
DVB-S2 & S2X Video Delivery
HTS, GEO and MEO Trunking
Disaster Recovery & Emergency
Communications
The CDM-780 Modular High-Speed Modem / Mod / Demod can be configured as a modem, up to 3 demods, up to 3 modulators, or a modulator and 2 demods for MEO / LEO make before break connections. This flexibility, extended symbol rate and data rate builds on our family of high-speed, ultra efficient trunking modems. The CDM-780 offers near theoretical performance with minimal implementation loss. The CDM-780 supports HTS, GEO, MEO and LEO mode operation with hitless antenna handover and satellite handover.
The CDM-780 Advanced High-Speed Trunking and Broadcast Modem extends Comtech's legacy of offering the most efficient, highest throughput, modem available. It accommodates the most demanding Internet Service Providers (ISPs), Broadcasters and telco backhaul links by offering users the most advanced combination of space segment saving capabilities while minimizing overhead.
The CDM-780 offers a wide range of symbol rates (10 Msps to 500 Msps) and data rates (10 Mbps to >2.4 Gbps) simplex. In a duplex setting, this is >4.8 Gbps or 1 Gsps. There are two (2) onboard 1GbE / 2.5GbE / 10GbE Ethernet interfaces for user traffic supporting Super Jumbo Frames from 64 Bytes to >10,000 Bytes and will process Ethernet frames at line speed.
The CDM-780 can be configured to run as DVB-S2X (EN 302 307-2) or DVB-S2 (EN 302 307) open standard waveforms. All waveforms are interoperable with Adaptive Coding and Modulation (ACM) and Automatic Uplink Power Control (AUPC). The modem can also be fitted with single or redundant prime power supplies as an option as well as offering 1:1 redundancy.
Implementing Adaptive Coding and Modulation (ACM) operation allows link margin to be converted to user capacity during non-faded conditions by taking advantage of the actual signal to noise ratio rather than calculated worst case signal to noise.
By using the best encapsulation methods, the CDM-780 further increases throughput by using minimal overhead. The Ethernet bridge operation uses less than 1% overhead for encapsulation.
DVB-CID ETSI TS 103 129 is the ETSI standard for combating satellite interference and is largely based on Comtech EF Data's award- winning MetaCarrier® technology. MetaCarrier technology embeds and detects a small message and unique ID within a video or data satellite carrier. This embedded message and ID significantly reduce the time to identify and clear interference sources.
These technologies alone offer enormous savings to ISPs, Broadcasters and telco operators. When used in combination, however, the capacity savings cannot be matched. The innovative high-performance architecture of the CDM-780 allows efficient networking and transport over satellite links while supporting a wide range of applications and network topologies.
Features
Modular design

Modem 1TX + 1RX
Demodulator only up to 3RX
Modulator only up to 3TX
Modem for antenna or satellite handover 1TX & 2RX

Symbol Rate: 10 to 500 Msps
Data Rate: 10 to >2.4 Gbps (Simplex), >4.8 Gbps (Duplex)
DVB-S2 ETSI EN 302 307 & DVB-S2X EN 302 307-2 compliant
ACM and CCM
Embedded MetaCarrier DVB-CID ETSI TS 103 129•
GSE – low overhead <1% encapsulation
Automatic Uplink Power Control (AUPC)
Super Jumbo Frame 64 - 10,240 Byte Support
Baseband Frames over IP (BB over IP)
Modulation: QPSK, 8PSK, 16APSK, 32APSK, 64APSK, 128APSK, 256APSK
L-Band IF
LNB power and 10MHz reference, BUC 10MHz reference
Data Interfaces

2 SFP Data Interfaces (RJ45-1GbE, RJ45-10GbE, or Optical)
Processes > 4.6M pps simplex, 9.2M pps duplex

Supports FSS, HTS, GEO, MEO and LEO mode operation
Management: HTTP, SNMP, Telnet, via (10M/100M) USB-C Serial with In-band (over satellite) M&C control
1:1 and 1:N redundancy switching available
Quote Request - Comtech CDM-780 Modular High-Speed Modem
---