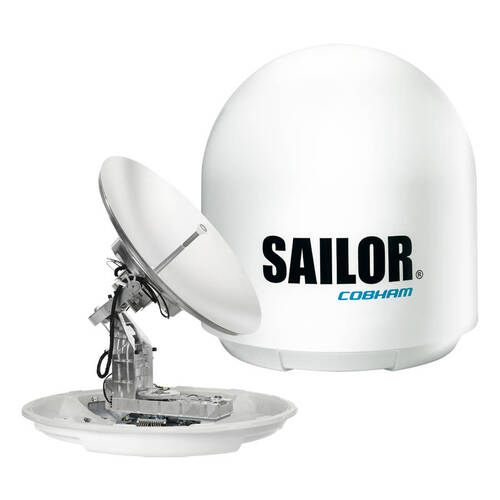 SAILOR 1000 XTR GX-R2 - Your future-proof Ka-band system for Inmarsat Global Xpress, available in 4.5W and 9W
Unlock the power to optimise delivery and performance of broadband for business applications, vessel operations and crew welfare, in any maritime environment with the new SAILOR 1000 XTR GX-R2; the most advanced 3-axis stabilized antenna system for the Inmarsat Global Xpress® satellite network.
A FUTURE-PROOF GX-R2 PLATFORM
Integrating the best of SAILOR VSAT Technology and SAILOR XTRTM, the new cutting-edge technology platform at the heart of all next generation SAILOR antenna systems, SAILOR 1000 XTR GX-R2 represents the state-of-the-art for leveraging the full capabilities of Inmarsat Global Xpress® today, and tomorrow.
The SAILOR 1000 XTR GX-R2's advanced RF package with new Ka-band transceiver (XCVR) and feed horn supports dual-polarisation and wide-band Ka, making it ready to take advantage of Inmarsat's future GX satellite constellations. It also features sophisticated Tracking Receiver technology to ensure fast satellite acquisition at start-up and after blockages caused by e.g. atmospheric conditions or vessel superstructure.
FEATURE RICH, QUICK & EASY TO DEPLOY
SAILOR 1000 XTR GX-R2 utilises sophisticated Rapid Deployment Technology to reduce installation complexity and cost. This is a combination of mechanical and software elements such as a true one- cable solution, Dynamic Motor Brakes, the XTRTM Installation Wizard enabling quick and trouble-free deployments.
Technical features include the new XTR Antenna System Control Module located inside the Above Deck Unit (ADU) with a lightning-fast processor, enabling new modular star network component topology, deep self- diagnostics capabilities and extended, highly secure remote access contribute to optimise every aspect of operation and management of SAILOR XTRTM antennas. Further developments include IoT protocols providing on-demand antenna health and performance data, and unique 'in-dome' Ethernet for simple integration of third-party devices such as cellular.
ONE PLATFORM FOR ALL ANTENNAS

Rapid deployment technology - true one-cable, software-controlled solution
Best-in-class RF performance - end-users get more value from their investment
Powerful new controller and motors – improved performance on all levels
Built-in flexibility - ready to deliver now and on future Inmarsat GX constellations
Dual antenna operation - reliable automatic switching between two antennas
New secure software platform - protects against cyber security risks
New lighter pedestal design - simplicity improves mechanical performance
Easy servicing and operation – enable higher QoS and business continuity
Quote Request - Cobham SAILOR 1000 XTR GX-R2
---