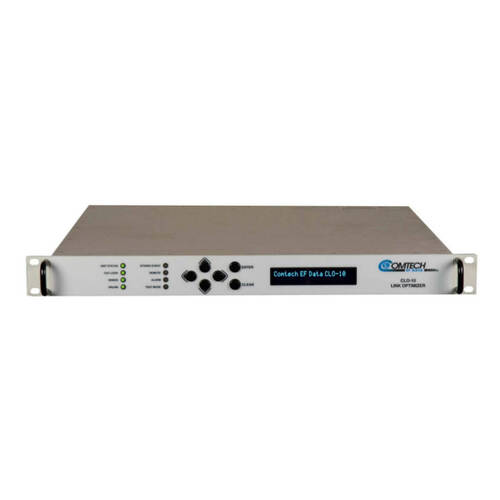 Overview
Comtech EF Data's CLO-10 Link Optimizer provides up to 16.384 MHz of modem agnostic bandwidth compression (or up to 18.2 MHz when using Comtech EF Data's CDM-710G High-Speed Satellite Modem with Adaptive Equalizer) that can be used to optimize one or more two-way satellite links.
The CLO-10 is based on the DoubleTalk Carrier-in-Carrier bandwidth compression technology that allows for two-way satellite links to be transmitted concurrently in the same transponder space, thereby providing significant savings in space segment.
Operating at 70/140 MHz IF, the CLO-10 can be easily deployed between the frequency up/down converters and the modem or the transceiver and the modem.
Details
DoubleTalk Carrier-in-Carrier bandwidth compression
Up to 16.384 MHz (18.2 MHz when used with the CDM-710G High-Speed Satellite Modem with Adaptive Equalizer) cancellation bandwidth
Single link or multi-link optimization
Frequency: 50 MHz – 90 MHz or 100 MHz – 180 MHz, 1 kHz steps
Simple setup
M&C: Front panel, EIA-232/485 remote port and 10/100Base-T Ethernet with Telnet
Quote Request - Comtech CLO-10 Link Optimizer DoubleTalk Carrier-in-Carrier Bandwidth Compression
---