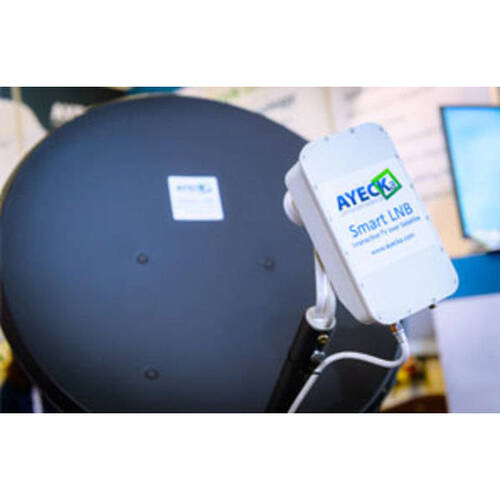 Smart LNB
Next generation Interactive Satellite terminal, the smartLNB is the most integrated and advanced CPE for consumer and IOT services, powered by Ayecka's RFModem technology and in partnership with Eutelsat. Operates with Eutelsat Smart LNB network, providing transactional random access scheme with exceptional bandwidth utilization compared to any other solution.
It has Ku Reception for TV Signals and Broadcast Data and Ka Transmission for Transactional-Message-based, Random traffic profile for large networks.
The terminal is Low in CAPEX – Terminal cost Lower than VSAT
And Low OPEX – Message at Cellular network cost.
system provides High Network Availability, closed-network with SLA.
Product Highlights
Low Terminal Cost Sub Lower than VSAT
Low Service Cost
Reuse of existing infrastructure
Standard based (DVB-S2 and F-SIM, ESSA)
Compliant with legacy DTH services
Ka or Ku Transmission
Ku Reception
Product Applications
Transaction-Orientation
Interactive-TV: VoD, Voting, Shopping, Social TV
Message-based, Random Access Large-scale networks
Lottery, ATM
SmartGrid, M2M and SCADA - IoT
Cache-Rich, Centric-Based, Internet Access
Quote Request - Ayecka Smart LNB
---