Description
Technical Specifications
Support Documents
Model ASC300LW (930 MHz to 2300 MHz)
The Model ASC300-LW Beacon Receiver is a high performance unit that is designed to real time track the power density of a satellite beacon and output a DC voltage that is linearly proportional to the beacon power by utilizing a true, RMS-responding power detector. The applications for the ASC300-LW are for antenna step track controlling and uplink power control system. Also can be used on telemetry beacons.
CDS, Continuous Digital Streaming (Optional)
The streaming option associated with the ASC300 series of beacon receivers provides a continuous, two byte, data stream running at 9600 baud that contains ten bits of signal strength level indication as well as lock or alarm condition of the unit. Other baud rates are available. A female DB9, RS-232 interface connector on the rear of the unit is specifically dedicated for this option.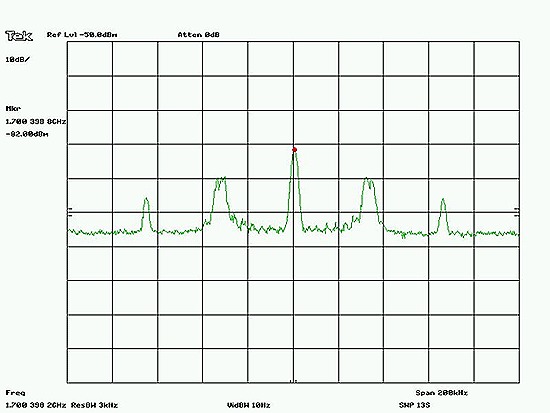 Systems Specifications
Input Frequency
930 MHz to 2300 MHz
Warm up from cold start
Within 1 dB in < 2 minutes
Temperature Stability
+ 1.5 dB, 0 to 50 deg C
Pre-detection Bandwidth
60 kHz
Input Level
-90 dBm, min.; -30 dBm max.
For full tracking range capability
Frequency Tuning
10 kHz Steps
Frequency Adjust
Front Panel or Remotely
C/N 0
<45 dB-Hz for capture
AFC
+30 kHz
Image Rejection
>40 dB, 930 to 2300MHz
Input Impedance (Note 1)
50 Ohm
Input Connector (Note 1)
Type-N, Female
Output Impedance
100 Ohm, single ended
Output Connector
Terminal plug and BNC Female
Tracking Gradient
0.5 V/dB
Tracking Response
0 to +10 VDC
for a 20 dB input level change
System Level Range
60 dB
System Level Adjust
0 to 60dB, 0.5dB Steps
Frequency Stability
<1 ppm, 0 0 c to +50 0 c
Phase Noise
>75 dB-Hz, 1 kHz from Carrier
Alarms
Unit Lock
Alarm Relay
Form-C
External LNB Power
+18 VDC, Switched,In/Out,500 ma,max
+15 VDC (Optional)
CDS (Optional)
DB-9, RS-232
Front Panel Display
Vacuum Fluorescent
M&C
RS-232 or RS-422/485 switched on rear panel
M&C Connector
DB-9, Female
Ethernet 10/100 Base T (Optional)
RJ-45 Jack connector
Physical Characteristics
Size
1.75"H X 16.00"D X 19.00"W
Weight
8 lb. (3.63 kg)
Primary Power
90 - 264 VAC 47 - 63Hz, 1.4 A AutoSensing
Environmental Specifications
Operating Temperature
0 0 c to +50 0 c
Storage Temperature
40 0 c to +70 0 c
Humidity
95% RH@ 40 0 c
Ethernet Interface
Number of Ports 1
Speed 10/100 Mbps, auto MDI/MDIX
Connector (s) 8-pin RJ45
Magnetic Isolation Protection 1.5 KV built-in
Serial Communication Parameters
Data Bits 5, 6, 7, 8
Stop Bits 1, 1.5, 2
Parity None, Even, Odd, Space, Mark
Flow Control RTS/CTS and DTR/DSR, XON/XOFF
Baud Rate 110 bps to 230.4 Kbp
Software
Network Protocols ICMP, IP, TCP, UDP, DHCP, BOOTP, Telnet, DNS, SNMP, HTTP, SMTP
Configuration Options
Web Console, Serial Console, Telnet Console,
Windows Utility Windows Real COM
Windows 7/2008/Vista/2003/XP x86/x64 Windows 2000/NT/ME/98/95 XP
Embedded Embedded CE 5.0/6.0
Fixed TTY Drivers
SCO Unix, SCO OpenServer, UnixWare 7, UnixWare 2.1, SVR 4.2, QNX 4.25, QNX 6, Solaris 10, FreeBSD, AIX 5.x, HP-UX 11i
Environmental Limits
Operating Temperature 0 to 55°C (32 to 131°F)
Storage Temperature -40 to 85°C (-40 to 185°F)
Ambient Relative Humidity 5 to 95% (non-condensing)
Standards and Certifications
Safety
UL 60950-1, EN 60950-1
EMC
CE, FCC
EMI
EN 55022 Class A, FCC Part 15 Subpart B Class A
EMS
EN 55024
Note 1: 75 Ohm F female or 50 Ohm SMA female are available.
Quote Request - ASC300LW Beacon Receiver 930 MHz - 2300 MHz
---