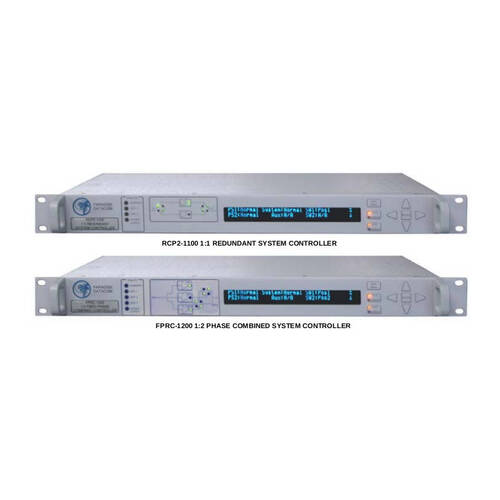 Overview
The Teledyne Paradise Datacom family of Redundant System Controllers is used to monitor and control amplifiers configured in 1:1 and 1:2 redundant systems.
The RCP2-1100 and FPRC-1100 controllers provide control of two amplifiers and their corresponding transfer switch. The RCP2-1200 and FPRC-1200 controllers monitor and control three amplifiers and two switches.
The RCP2/FPRC Series of redundant controller can be used in LNA, LNB, and SSPA systems as well as frequency converter systems. They feature a full mimic panel and menu-driven Vacuum Fluorescent Display all in one rack unit of cabinet space. Front panel fault lights and an audible alarm are available for fault detection.
Details
Menu Driven display for user friendly monitor and control
Front Panel Display of Signal Path for intuitive operation
Parallel I/O; Form C Contact Closure Outputs & Opto-Isolated Inputs
1 Rack Unit height to maximize cabinet space
RS-232/485 Serial Interface for Remote M&C
Audible alarms
Removable power supplies
Field programmable firmware
Windows®-based remote M&C Software
Ethernet Port
Quote Request - Paradise Datacom Amplifier System Controllers
---