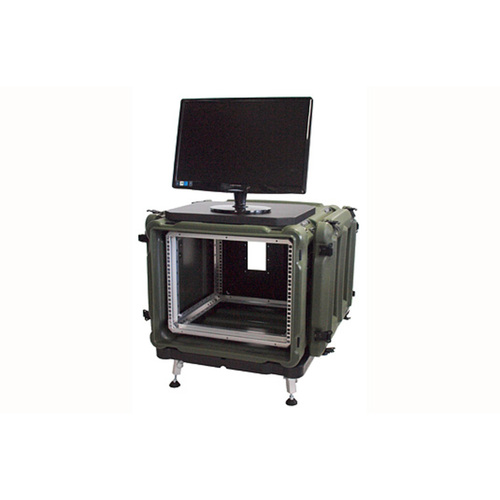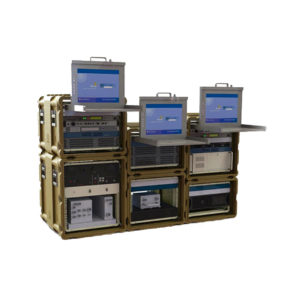 Amazon Racks
Amazon ruggedized enclosures combine the tough resilience of a rotomolded case with an aluminum rack frame (an optional stainless steel frame is available) which is suspended by 8 (or 16 as an option) anti-vibration mounts.
Anti vibration racks are available from 4U to 14U and in two standard frame depths of 19″and 24″. (Further sizes to follow).
Amazon 19″ racks are designed to function in extreme conditions and survive rough handling in military or civilian applications.
Amazon 19″ ruggedized racks comply with MIL-STD 810 and are rated IP65.
The optional EasyGlide™ system allows the inner frame to slide in and out of the rack body. This enables easy "on the bench" equipment population and "full all round" access for maintenance.
Amazon 19 inch racks offer enhanced 'sway space' between the inner frame and rack body to prevent collision under severe impact conditions.
Amazon 19 inch racks are an approved product for government and MoD / DoD requirements.
Amazon products carry NATO stock numbers and are accredited to MIL-STD 810.
Features
Enhanced 'sway space' between inner frame and outer case to prevent contact with outer container
All 19 inch Amazon Racks have a 'user adjustable' inner frame allowing back to front movement of 2″ within the outer container to accommodate front panel and rear wiring/ connector needs.
Optional 'EasyGlide' removable, self anchoring, internal frame system
Standard, stainless steel 5/32 threaded fasteners secure electronic equipment into floating stainless steel cage nuts at both front and rear of frame.
All 19 inch Amazon Racks have positive stacking, aligning at the front face regardless of rack depth
Quote Request - Amazon 19 Inch Case
---