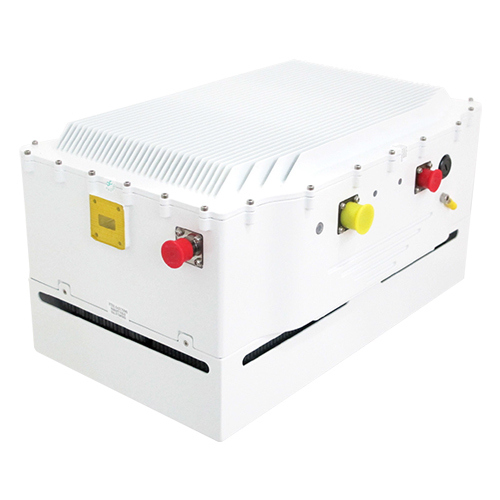 Overview
This small and lightweight BUC is ideal for mobile and satellite uplink applications.
The BUC has "Best in Class" efficiency and "lowest power consumption." The unit works on a wide range AC power supply of 96VAC to 264VAC. Innovative and efficient thermal design makes this BUC one of the smallest, robust, reliable and rugged enough to withstand outdoor conditions in the industry.
Built-in redundancy feature eliminates the use of an external controller for 1:1 redundancy operation. This eliminates messy cabling at the antenna making this a very elegant solution.
Extensive M/C interface with RS232/RS485/Ethernet (SNMP & HTTP) and Wifi.
Details
Compact and lightweight
Available in standard and extended Ku-Band
Forward & reverse power detection
Input power detection
Intuitive monitoring & control through RS232/RS485 & Ethernet (SNMP & HTTP) and Wifi
Automatic fault identification & alarm generation
Temperature compensation facility
Built-in redundancy facility
Built-in 10MHz reference with auto-detection
Built-in receive reject filter
Sample port for output monitoring
Wide operating temperature range -40ºC to +60ºC
RoHS Compliant
Waterproof
Quote Request - Agilis ALB 129 Series Compact 150W Ku-Band BUC
---