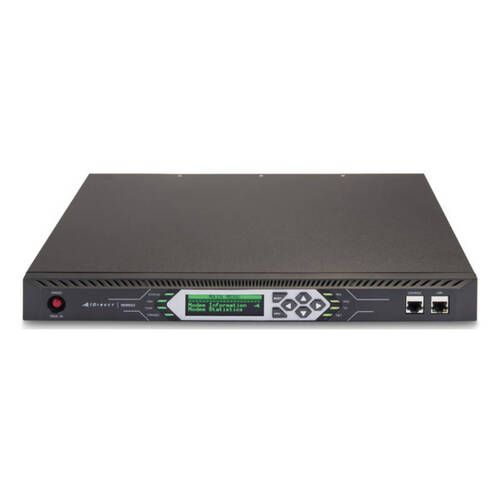 9350 Satellite Modem
Overview
ST Engineering iDirect's 9-Series modems provide a superior level of IP broadband capability, supporting DVB-S2/ACM and Adaptive TDMA and are designed for high-bandwidth fixed and mobility applications. The 9-Series has enhanced performance, efficiency and security with FIPS 140-2 Level 3 certification and supports both one-way and two-way TRANSEC to enable mission-critical communications.
The 9350 Modem is housed in a 1RU rackmount chassis and features dual DVB-S2 demodulators for networks utilizing multiprotocol encapsulation (MPE) traffic. The 9350 also has one Ethernet port and an 8-port Gigabit switch to securely support different user groups. The front panel includes an LCD screen, allowing a user to view modem configuration and statistics and it also has a zeroize button for added protection. The 9350 also meets MIL-STD 810G requirements for extreme operational conditions. Coupled with the dynamic feature set of the ST Engineering iDirect platform, the 9350 is highly flexible and can support small antennas for government and military applications including command, naval, and vehicle-based terminals.
The 9350 is also available in a board-level product variant. The 900 Modem Board also features dual demodulators and an 8-port Gigabit switch and is ideal for integration into both fixed and mobile terminals.
Features
DVB-S2 up to 45 Msps
Adaptive TDMA up to 29 Msps
Dual demodulators to support two data streams
Ideal for both fixed and mobility applications
FIPS 140-2 Level 3 Certified (#3056) TRANSEC module (E0002268)
Extended frequency ranges for WGS
Markets
Quote Request - iDirect 9350 Satellite Modem
---