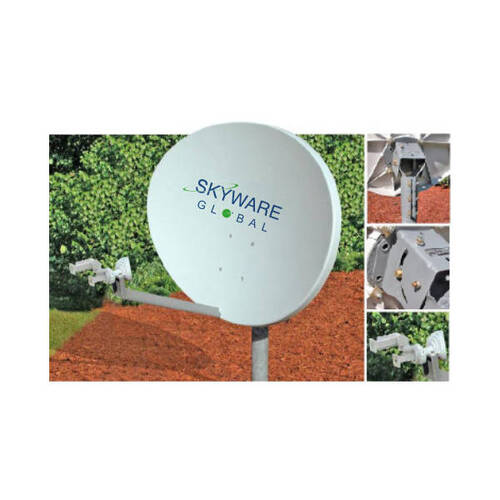 Overview
The Skyware Global 75cm Rx/Tx Ku-Band Elliptical Antenna is a rugged commercial grade product suitable for the most demanding applications.
The reflector is thermoset-molded for strength and surface accuracy. Molded into the rear of the reflector is a network of support ribs which strengthens the antenna and sustains the parabolic shape necessary for transmit performance.
The heavy-gauge galvanized steel Az/El/Skew mount provides rigid support to the reflector.
The mount secures the antenna to any 60 mm (2.38") O.D. mast and prevents slippage in high winds.
This mount allows for precise alignment of the elliptical reflector to the geostationary arc.
A special powder paint process offers excellent protection from weatherrelated corrosion.
Details
ISO 9001:2008 Certificate of Registration
One-piece precision elliptical offset thermoset-molded reflec- tor.
Single bolt fine elevation adjust- ment.
Extruded aluminum feed sup- port arm.
Pre-assembled Az/El/Skew mount for optimum alignment capability.
Plated hardware for maximum corrosion resistance.
Includes Rx/Tx feed assembly.
Available with Co-Pol or Cross- Pol feed.
All materials comply with EU Directive No. 2002/95/EC (RoHS).
Designed for typical 1W and 2W Ku-band Block-Up Con- verters (BUCs)
* 2 kg or 4.5 lb or max. weight for RF electronics (BUC and LNB)
Quote Request - Global Skyware 75cm Ku-Band Elliptical - Type 755
---