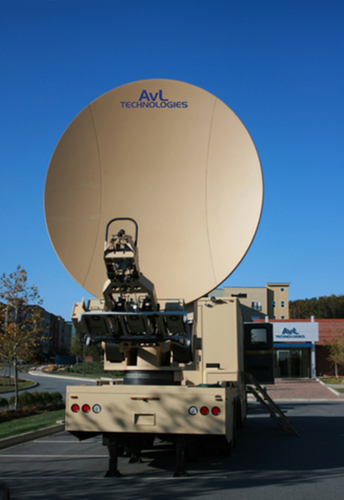 Overview
AvL's Military antennas are industry leading performers with top-caliber, lightweight materials and components. These antennas offer unique features such as ultra low-stow dimensions, high wind tolerances and numerous interchangeable feed options.
The Military antenna family offers exceptional performance and ease of operation that's ideally suited to military applications. These antennas are frequently mounted on military Special Operations vehicles and other military trucks and trailers and used in signal contribution for high data rate and bandwidth as well as high power broadcast or similar applications.
AvL Premium Military Antenna Systems feature:
Feed options for Ku-, Ka- and X-band; optional C-band for 2.0m+ antennas
MIL-STD-810 compliance
Munson Road compliance for vehicle-mount antennas
RF system mounting either on feed boom, back of reflector, base, or inside vehicle
All AvL antennas are designed to meet and exceed the highest performance requirements around the world to guarantee both satellite authority compliance and peak in performance, reliability and availability.
Details
AvL Technologies' 3.8m motorized vehicle or trailer mount antenna was designed and built for heavy duty commercial andmilitary applications. This quad-band antenna features a three-piece reflector for ease of stowing.
Multiple band options: C, X, Ka or Ku (mode-matched) feed; also L and DBS capable
Az/El AvL Cable Drive positioner with 400° Az & 0-90° El
3.8m AvL carbon fiber three-piece reflector with removable wings, or optional manually folding hinged wings or motorized folding hinged wings
Full function 3-axis controller with auto-acquire and auto-stow
Optional wind compensation tracking
MIL-STD-810 and Munson Road compliant
Quote Request - AvL 3.8m Vehicle/Trailer-Mount / DriveAway Premium SNG/MIL Antenna
---