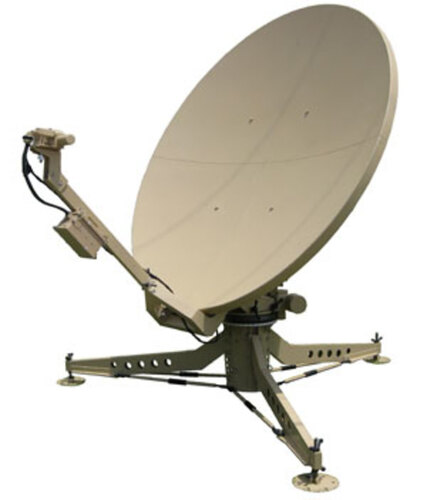 2.4 Meter Motorized Flyaway Antenna
The Sat-Lite Technologies Model 2432 Celero motorized transportable antenna offers excellent performance in a
high value package. This antenna features a 4 piece segmented reflector and custom design fully motorized elevation-over-azimuth tripod pedestal that can be assembled in approximately 15 minutes. The azimuth and elevation drives provide a full range of motion to make use of the auto-locate features of the controller without re-positioning or re-configuring the pedestal or reflector once fully assembled. The modular design also allows for existing manual drive antennas to be upgraded to a motorized configuration.
Integrated feedbooms are readily available for C, X, and Ku bands that included BUC mounting and wave guide connections for rapid assembly and easy packing. The antenna control system includes a pre-wired outdoor mounted controller for fast assembly. GPS, Compass, Modem interface, and DVB receiver options are readily available for true auto acquire and peak features. Tracking options include software and an integrated L- Band beacon receiver if necessary. The antenna is designed to meet international performance specifications for commercial or military applications and is readily available in C, X, and Ku band frequencies.
Intelsat Compliant
Multi-Band C, X, Ku band Frequencies
Multiple Integration Options
2 Axis Motorized Pedestal Configuration
Motorized Polarization For Linear Feeds
Full range of motion for Azimuth. Makes full use of auto-locate control options.
Excellent Reliability
Minimal Maintenance
Less than 20 min Assembly Time
Captive Hardware
Feedboom Mounted Integration with heavy payload
Quote Request - Sat-Lite 2432 Celero Class Antenna
---