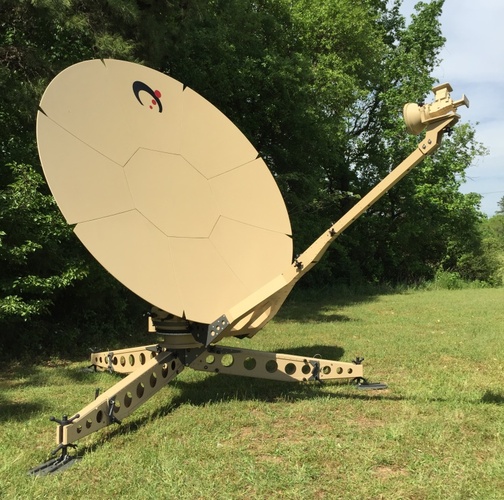 2.4 Meter Carbon Fiber Flyaway Antenna
The Sat-Lite Technologies Model 2421 Agilis Carbon Fiber Flyaway Antenna offers superior performance in a lightweight, portable package. This antenna features a 9 piece carbon fiber segmented reflector designed to provide high gain and low cross pol characteristics. The standard antenna is designed for extremely rugged use and packs 6 high performance all weather cases. Optional package configurations are available. The tripod features a user friendly interface to allow for easy positioning and peaking on a satellite. In addition, the antenna components are modular in design which provide simple options for motorization and tracking requirements. The antenna can be assembled by a single person in 15 minutes or less.
The antenna is designed to meet international performance specifications for commercial / off-the-shelf applications and is readily available in C, X, Ku, and Ka band frequencies. Multiple integration packages are available with a quick change / quick pack configuration of the feedboom. The integrated boom assembly with BUC and LNB packs in a single case for easy and quick installation or packing.
Intelsat / Eutelsat Compliant (with Appropriate Feed)
Multi-Band C, X, Ku, and Ka band Frequencies
Integrated Feedboom
Compact Packaging
Excellent Reliability
Minimal Maintenance
Less than 15 min Assembly Time
Captive Hardware
Quote Request - Sat-Lite 2421 Agilis Class Antenna
---