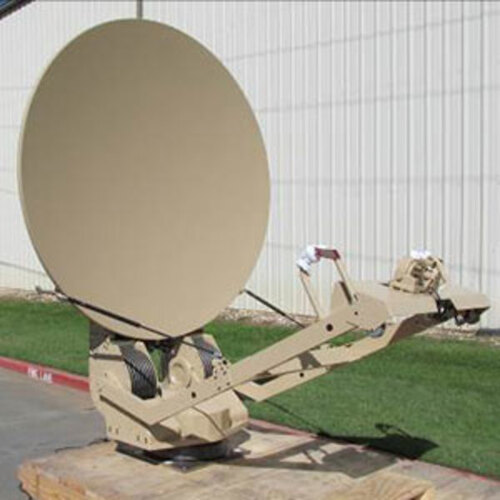 2.4 Meter Motorized High Wind Vehicle-Mount Antenna
The Sat-Lite Technologies Model 2411-HW vehicle-mount antenna is strategically designed to offer high wind performance in a compact design. This antenna features a carbon fiber composite reflector and backbeam structure along with a custom-designed compact elevation-over-azimuth cable drive pedestal to reduce vehicle mounting space. The mechanical design features of this antenna offer exceptional performance even using lower cost open loop control systems.
The antenna is designed to meet international performance specifications for commercial or military applications and is available in C, X, Ku and/or Ka band frequencies. The antenna is offered with multiple controller configurations that include manual jog control, auto locate with peaking options, GPS / Dual GPS, compass, and full tracking capabilities using beacon receiver for modulated beacons.
High Wind Applications
Intelsat / Eutelsat Compliant
Multi-Band C, X, Ku or Ka band Frequencies
Multiple Integration Options
Integrated Controller with Tracking Options Available
Carbon Fiber Reinforced Polymer Structure – Reflector and Backbeam
Low Profile and Space-Optimizing Stow Position
Cable Drive Positioning System for Azimuth and Elevation
Single or 3 Piece Reflector Option
Harsh Environmental Options
Quote Request - Sat-Lite 2411-HW Peloris Driveaway Antenna
---