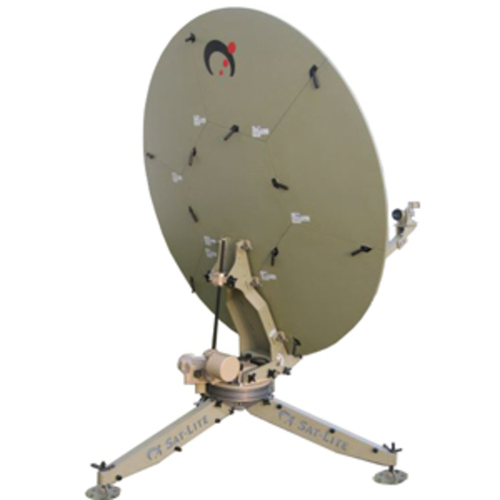 2.0 Meter Motorized Flyaway Antenna
The Sat-Lite Technologies Model 2031 Agilis motorized carbon fiber flyaway antenna offers superior performance in a lightweight, portable package. This antenna features a 7 piece carbon fiber segmented reflector designed to provide high gain and low cross pol characteristics. The motorization package includes a ruggedized outdoor mounted controller with preconnectorized cables allowing for quick assembly and disassembly. The custom-designed elevation-over-azimuth tripod pedestal provides high stiffness with minimal weight. The antenna components are modular in design which also reduces assembly time and provides an improved packaging scheme requiring less time and effort to pack or unpack the antenna. The molded cases are included.
The antenna is designed to meet international performance specifications for commercial or off-the-shelf military applications and is readily available in C, X, Ku and Ka band frequencies. Multiple feed and integration configurations are available.
Intelsat & Eutelsat Compliant (Using appropriate feed)
Multi-Band C, X, Ku and Ka Band Frequencies
Integrated Feed boom Assembly Option
Compact Packaging
Superior Stability in Wind
Excellent Reliability
Minimal Maintenance
Less than 15 min Assembly Time
Captive Hardware
Quote Request - Sat-Lite 2031 Agilis Class Antenna
---