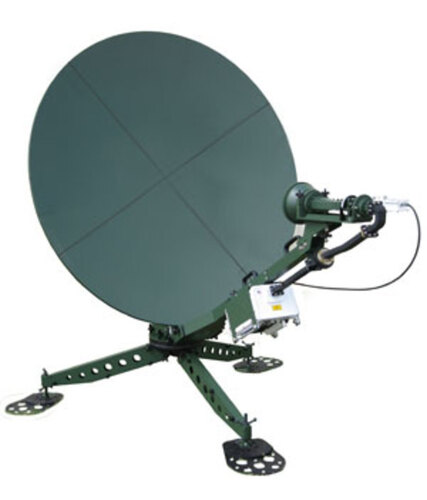 1.8 Meter Motorized Flyaway Antenna
The Sat-Lite Technologies Model 1832 Celero motorized flyaway antenna offers excellent performance for a high value package. This antenna is specifically designed to provide a lower cost alternative for auto locate system requirements.
A ruggedized outdoor mounted controller, motorized azimuth hub assembly, and motorized elevation jack assembly provide a full featured auto locate platform that can identify and peak on a target satellite in about 3 minutes. The controller uses a compass, GPS, and DVBS-2 receiver that can be programmed to peak on known satellite carriers. The unit can also be supplied to work with a modem. The system is also offered with integrated feed boom assemblies that can pack in a case. Each
assembly can include the feed, BUC, LNB and interfacing wave guide.
The antenna and controller are CE certified as an option and meet international performance specifications for commercial
applications and is readily available in C, X, and Ku band frequencies.
Intelsat Compliant
Multi-Band C, X, Ku band Frequencies
Ships in 4 Ruggedized Cases
Superior Stability in Wind
Excellent Reliability
Minimal Maintenance
Less than 15 min Assembly Time
All Captive Hardware
Auto locate Controller with Compass, GPS, and DVBS-2 Receiver
Integrated Feed Boom Options
Quote Request - Sat-Lite 1832 Celero Class Antenna
---