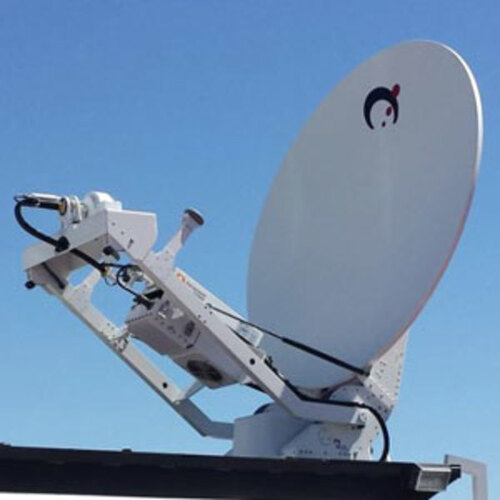 1.5 Meter Vehicle-Mount Antenna
The Sat-Lite Technologies Model 1500 vehicle-mount antenna is a high performance light weight design for SNG (satellite news gathering) and military applications. Key features include a precision carbon fiber reflector combined with a light weight pedestal that provides the integrator with a low stow height, space saving profile. The elevation over azimuth pedestal provides excellent stiffness and low backlash characteristics for applications including Ka Band frequencies.
The antenna is also designed for mounting redundant RF packages of up to 100 lbs directly on the feed boom. A proprietary rack mount Sat-Lite Technologies Cirrus Antenna Controller offers auto locate features using GPS, compass, and DVBS2
receiver to quickly identify the satellite. The standard product includes a keypad interface in the rack as well as an enhanced ethernet GUI for laptop or remote interface. The antenna is designed to meet international RF performance requirements for
commercial and military applications including Intelsat, Eutelsat, and FCC specifications.
High Performance SNG Applications
Intelsat / Eutelsat Compliant with Appropriate Feed
Sat-Lite Cirrus Controller
Carbon Fiber Reflector
Hand crank Included
Low Stow Height and Space-Optimizing Stowed Configuration
Designed for Boom Mounted Redundant RF Packages up to 100 lbs
Multiple Feed Options for X, Ku, and Ka Bands
Quote Request - Sat-Lite 1500 Peloris Class Antenna
---