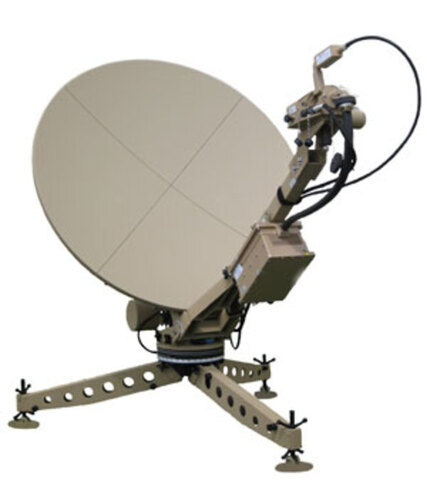 1.2 Meter Motorized Flyaway Antenna
The Sat-Lite Technologies Model 1233 Celero motorized flyaway antenna is highly portable, compact, light-weight, and can be assembled by one person in less than 15 minutes. The antenna features a 2 or 4 piece segmented glass fiber reinforced reflector with compact pedestal and is designed to be value priced while providing exceptional performance in a lightweight package. The elevation-over-azimuth pedestal provides excellent stiffness characteristics and convenience for the user when pointing and peaking on a satellite. The antenna packs in 3 ruggedized shipping cases as standard configuration, other options are available.
In addition, the antenna is designed to meet International performance specifications for commercial or military applications. Multiple feed configurations and paint schemes are readily available. The control system is integrated within the unit. The full travel azimuth and elevation ranges allow the control system to provide true autolocate and peak options for the end user with simple 1 button operation.
Intelsat Compliant
Multi-Band Capable
Multiple Integration Options
Compact Packaging
Superior Stability
Excellent Reliability
Minimal Maintenance
Less than 15 min Assembly Time
Captive Hardware
High Performance Motorization Package
Integrated Control System for 1 Button Auto Acquire
Quote Request - Sat-Lite 1233 Celero Class Antenna
---