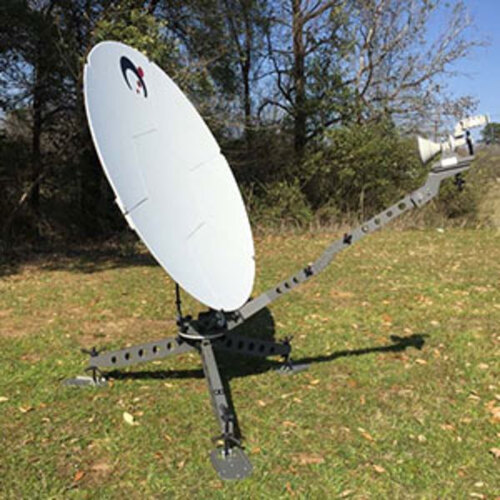 1.2 Meter Manual Flyaway Antenna
The Sat-Lite Technologies Model 1227 Avion Manual flyaway antenna is highly portable and designed to meet IATA weight and dimension requirements for checked baggage on airlines. The antenna features Sat-Lite's unique 7-piece segmented carbon fiber composite reflector designed for unmatched performance. Assembly time for either antenna is less than 15 minutes. The elevation-over-azimuth pedestal provides excellent stiffness characteristics and convenience for the user when pointing and peaking on a satellite.
In addition, the antenna is designed to meet international performance specifications for multiple applications. Multiple feed and packaging configurations can be supplied for a specific requirement that include low and high power amplifier configurations for each frequency band.
Ships in 2 Ruggedized All Weather IATA Compliant Cases
Intelsat and Eutelsat Compliant (using appropriate Feed)
Multi-Band Configurations
7 Segment Carbon Fiber Precision Reflector
Compact Pedestal featuring easy point and peak control
High Gain / Low Cross Pol Design
Extremely Rugged / Reliable
Quote Request - Sat-Lite 1227 Avion Class Antenna
---