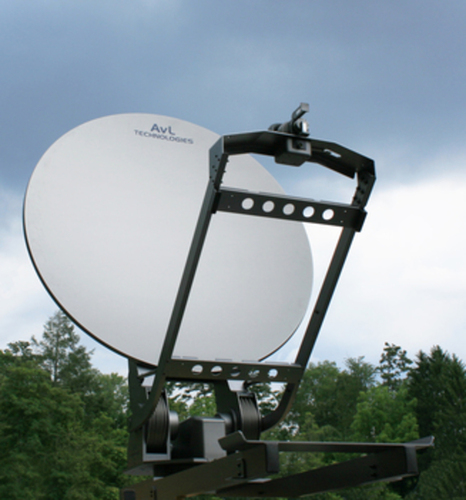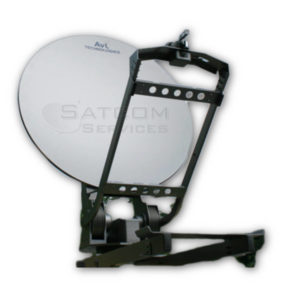 1.8m Vehicle-Mount / DriveAway Mobile VSAT Overview
AvL's Model 1878 Vehicle-Mount / DriveAway Mobile VSAT antenna features an offset 1.8m reflector and the patent-pending AvL Cable Drive positioner for reliability and ease of operation. The Model 1878K mobile broadband antenna system is a motorized, palletized antenna with a Fixed Ku-Band Precision feed or a Fixed C-Band feed. The Model 1878 provides connectivity in remote environments worldwide where larger aperture antennas are desired to combat rain-fade and weaker satellite signals.
Created for use where performance really matters, AvL's Vehicle-Mounted / DriveAway Mobile Broadband systems enable video, voice, IP and data communication anywhere in the world, with the push of a single button. The precision of AvL's patent-pending AvL Cable Drive positioners paired with the ease of one-button Auto-Acquisition and superior technical support make our vehicle mount antennas ideal for non-technical antenna operators.
Key featues for AvL Model 1878
Offset 1.8m AvL Engineered Composite Reflector
Zero Backlash AvL Cable Drive
Standard Transmit Rotary Joint on Feed for C-Band, Optional for Ku-Band
Stows to 22.1" H (56.1 cm H) with Ku-Band feed
Can be mounted onto large SUV or van
Versatile vehicle-mount pallet with optional Thule bar interface
Fixed Ku-Band Precision feed or Fixed C-Band feed
Feed rotation for polarization
One button auto-acquisition controller
400 degree azimuth range
Hand cranks on all axes
Integrated GPS
Level sensors for automatic vehicle tilt compensation and automatic cross pol alignment
Options include 1RU rack mounts and minimized stow height
The 1.8m vehicle-mount / drive away Mobile VSAT antenna family includes the following models:
Model 1878 Ku-Band with Fixed 2-port Precision Ku-band feed (standard Cross-Pol comp.)
Model 1878 C-Band with Fixed 2-port Standard C-Band or Fixed 2-Port INSAT C-Band feed
For Electrical Specifications, click on the image below.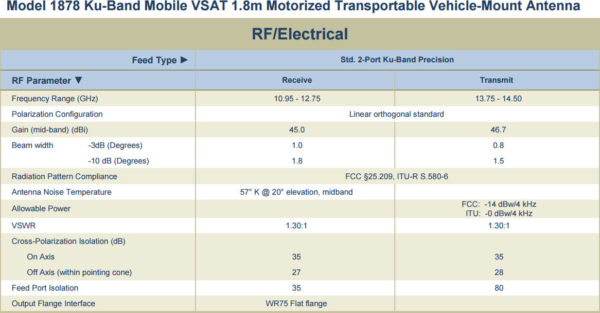 (More information can also be found on the Technical Specification tab.)
Quote Request - AvL 1.8m Vehicle-Mount / DriveAway Mobile VSAT
---