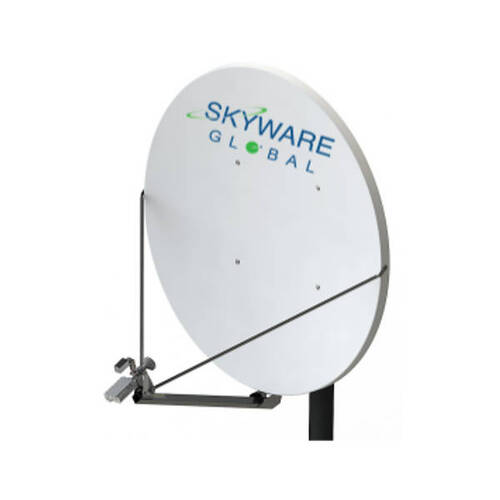 Overview
The Skyware Global 1.8m Rx/Tx C & Ku-Band High Wind Antenna is a rugged, commercial quality product suitable for the most demanding applications. This product is capable of operation at 65mph and above depending on supporting structure.
The reflector is constructed from glass fiber reinforced polyester (SMC) for strength and accuracy. A proprietary process developed by Skyware Global ensures high RF reflectivity.
The Heavy Duty Az/EI mount is made of hot dipped galvanized steel for excellent corrosion resistance. This mount includes special features to increase pointing accuracy with low backlash and lockdown error.
This Az/EI allows the antenna to be installed on standard 5" (127mm) or 5.56" (141mm) OD mounts.
All hardware is plated to 720 hour salt spray standards tested in accordance with ASTM B-117.
Excellent Tx Port to Port Isolation of 90dB or better.
Meets or exceeds regulatory agency requirements.
Details
ISO 9001:2008 CERTIFICATE OF REGISTRATION
One-piece precision SMC Reflector
Heavy Duty Az/EI Mount
Fine Azimuth and Elevation Adjustment Features
All Materials Comply with EU Directive No. 2002/95/EC (RoHS]
720 Hour Salt Spray Hardware
Quote Request - Global Skyware 1.8M Ku-Band High Wind - 188
---