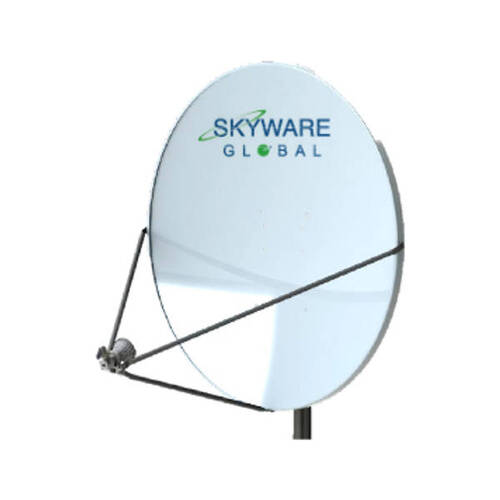 Overview
The Skyware Global 1.2m Rx/Tx Class I Antenna is a rugged, commercial quality product suitable for the most demanding applications.
The reflector is constructed from glass fiber reinforced polyester [SMC] for strength and accuracy. A proprietary process developed by Skyware Global ensures high RF reflectivity as needed for Ku-Band operation.
The precision Az/EI mount is made of galvanized steel for excellent corrosion resistance. This mount includes special features to increase pointing accuracy with low backlash and lockdown error.
This Az/EI allows the antenna to be installed on standard 73-76mm [27/8"- 3"] OD installation mounts.
All hardware is plated to 720 hour salt spray standards under ASTM B-117.
Cross-Polarization Isolation of 30dB on axis.
Excellent Tx Port-to-Port Isolation of 90dB or better.
Meets or exceeds regulator agency requirements.
Class I system designed for typical lightweight Ku-band RF Electronics.
* 2.0 kg or 4.5 lb max. weight (For BUC and LNB) 2.2 kg or 4.8 lb max. weight (For Transceiver)
Details
ISO 9001:2008 Certificate of Registration
One-piece precision SMC Reflector
Precision Az/EI Mount
Fine Azimuth and Elevation Adjustment Features
All Materials Comply with EU Directive No. 2002/95/EC (RoHS]
720 Hour Salt Spray Hardware
Standard Waveguide Flange
Quote Request - Global Skyware 1.2M Ku-Band Class I - 125
---