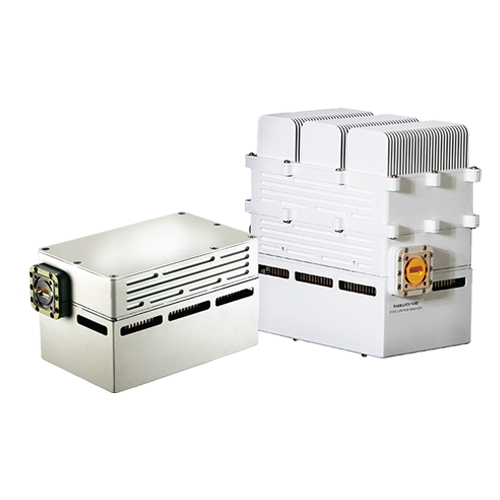 ALB 129 Series 40W Ku-Band BUC
Contact Us For Pricing
Compact and lightweight Feed mountable
Available in both standard and extended Ku-Band
Forward power detection facility
Intuitive monitoring & control through RS232/485 & Ethernet (SNMP & HTTP)
Auto ranging 38 to 60VDC Power Supply
Optional input AC Voltage

Overview
This small and lightweight BUC is ideal for SOTM applications while also offering benefits for fixed and maritime applications.
Designed to be mounted on the feed horn, the BUC has "Best in Class" efficiency and "lowest power consumption" with less than 330W. The unit works on a wide range DC power supply of 38V to 60V. Innovative and efficient thermal design makes this BUC on of the smallest, robust, reliable and rugged enough to withstand outdoor conditions in the industry.
The unit can be configured to work in 1:1 redundant mode by adding on a simple redundancy option to the basic unit.
Details
Compact and lightweight Feed mountable
Available in both standard and extended Ku-Band
Forward power detection facility
Intuitive monitoring & control through RS232/485 & Ethernet (SNMP & HTTP)
Auto ranging 38 to 60VDC Power Supply
Optional input AC Voltage
Automatic fault identification & alarm generation
Wide operating temperature range -40ºC to +60ºC
IP65 rated housing ( Weather proof Construction)
RoHS compliant
Quote Request - ALB 129 Series 40W Ku-Band BUC
---