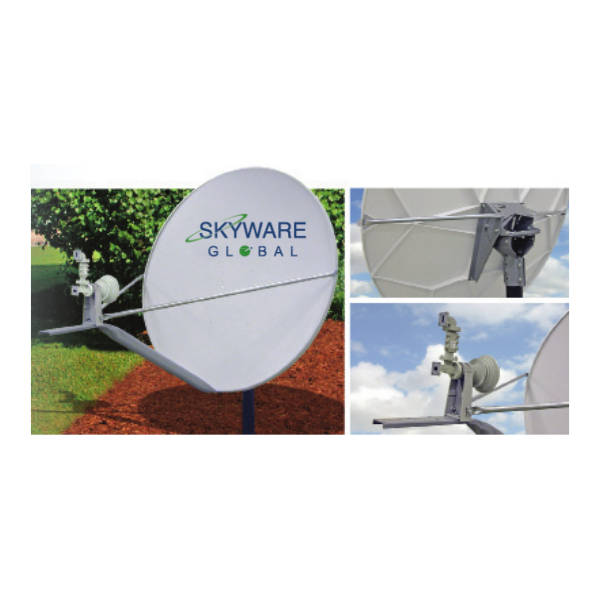 1.2M Ext Ku-Band Class II – 123
Contact Us For Pricing
ISO 9001:2008 Certificate of Registration
All materials comply with EU Directive No. 2002/95/EC (RoHS).
Long focal length optics for low cross-pol performance.
Fine azimuth and elevation adjustments.
Available with Ku-band co– pol or cross–pol feeds.
Plated hardware for maxi mum corrosion resistance.
Description
Technical Specifications
Support Documents
Overview
The Skyware Global 1.2m Rx/Tx Extended Ku-Band Class II Antenna is a rugged commercial grade product suitable for the most demanding applications.
The reflector is thermoset-molded for strength and surface accuracy. Molded into the rear of the reflector is a network of support ribs which strengthens the antenna and helps to sustain the necessary parabolic shape.
The reflector optics feature a long focal length for excellent cross-pol performance.
The heavy gauge steel Az/El mount secures the antenna to any 73-76 mm (2.88"- 3.00") mast and prevents slippage in high winds.
A special powder paint process offers excellent protection from weather-related corrosion.
Details
ISO 9001:2008 Certificate of Registration
All materials comply with EU Directive No. 2002/95/EC (RoHS).
Long focal length optics for low cross-pol performance.
Fine azimuth and elevation adjustments.
Available with Ku-band co– pol or cross–pol feeds.
Galvanized 19 mm (.75") O.D. side feed support legs and 51 mm (2") O.D. lower feed support.
Plated hardware for maxi mum corrosion resistance.
Class II system designed for typical 2W and 4W Ku-band Block Up-Converters (BUCs).
*3.6 kg or 8 lb max. weight for RF electronics (BUC and LNB)
Type Approval Information
Antenna Model
62-1236201
Intelsat Standard
Standard G (IESS 601)
Approval Code
IA077SA00
RF Performance
Effective Aperture
1.2m (48 in)
Operating Frequency
TX
12.75-14.50GHz
RX
10.70-11.70GHz
Polarization
Linear, Orthogonal
Gain (±0.2 dB)
TX
43.3 dBi @ 14.3GHz
RX
41.8 dBi @ 12.0GHz
3 dB Beamwidth
TX
1.2° @ 14.3GHz
RX
1.5° @ 12.0GHz
Sidelobe Envelope (Tx, Co-Pol dBi)
1.5°
29-25 log q dBi
20°
-3.5dBi
26.3°
32-25 log q dBi
48°
-10
Antenna Cross-Polarization
30 db in 1 dB
Contour
Antenna Noise Temperature
10° EL
45K
20° EL
31K
30° EL
24K
VSWR
TX
1.3:1
RX
1.5:1
Isolation (Port to Port)
TX
80db
RX
35db
Feed Interface
TX
WR75 Flat Flange
RX
WR75 Flat Flange
Mechanical Performance
Reflector Material
Glass Fiber Reinforced Polyester
Antenna Optics
One-Piece Offset Feed Prime Focus
Mount Type
Elevation over Azimuth
Elevation Adjustment Range
7°-84° Continuous Fine Adjustment
Azimuth Adjustment Range
360° Continuous ±20° Fine Adjustment
Mast Pipe Interface
73-76 mm (2.88 in-3.00 in) Diameter
Enviromental Performance
Wind Loading
Operational
50 mph (80 km/h)
Functional Survival
80 mph (128 km/h)
Ultimate Survival
125 mph (200 km/h)
Operational Temperature
-40°C to +60°C
Survival Temperature
-50°C to +80°C
Humidity
0 to 100% (Condensing)
Atmosphere
Standard Hardware 500 Hrs SST Requirements (ASTM B-117)
Solar Radiation
360 BTU/h/ft2
Shock and Vibration
As Encountered during Shipping and handling
(All specifications typical)
Quote Request - 1.2M Ext Ku-Band Class II - 123
---