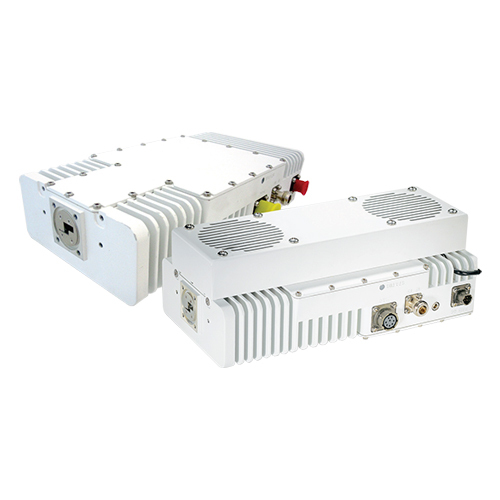 Overview
ALB150 Series X-Band BUC (Block-Up Converter) is a highly cost-effective RF outdoor transmitter for satellite communication. The BUC has very high output power linearity and works well from -40ºC up to 60ºC. The BUC also has a wide input voltage range which allows it to work from 18V to 60V.
Agilis X-Band BUC is designed for high reliability operation in various applications such as flyaway antenna. The BUC also has the most complete M&C features in the industry.
Easy to install, it is redundancy-ready and field-proven for any harsh operating environment. It is suitable for both data and voice communication operating in different modulation formats.
Agilis X-Band BUC is a compact design that comprises of Upconverter, Solid State Power Amplifier, Phase Locked Oscillator and DC-DC power converter. It employs L-Band IF interface to the indoor unit.
Details
Direct antenna mount
Wide operating temperature range -40ºC to +60ºC
Wide input D.C voltage range 18V to 60V
Standard RS232/485 interface & optional SNMP/HTTP M&C option
Excellent linearity
Extremely reliable
High power efficiency
Excellent phase noise characteristics
Low spurious
Automatic temperature compensation feature
RoHS compliant
Waterproof with IP65 standard
Easy installation
Redundancy option
LED indicator for BUC status
Quote Request - Agilis ALB 150 Series 4W X-Band BUC
---